Lions Nature Education Centre Orienteering Course
In order to promote orienteering and to allow the public to learn more about country parks and nature conservation, designed through joint efforts of Agriculture, Fisheries and Conservation Department and Orienteering Association of Hong Kong, the Lions Nature Education Centre Orienteering Course is now open to the public.
Orienteering is a sport that challenges both the body and the mind. The sport traditionally takes place in a natural environment, making it a great way to experience and enjoy nature. Participants will visit a series of control points marked on a detailed orienteering map; three courses of different challenge levels are available for selection. Questions relating to nature conservation are also prepared as part of the experience for participants to learn more about nature and the environment.
Course maps for LNEC Orienteering Course are available for download and printing below. Furthermore, allow participants further enjoyment of the orienteering experience, additional services including the provision of maps, answer sheets and lending of electronic control cards are provided on weekends and public holidays.
| | |
| --- | --- |
| Registration venue: | Enquiry counter (Equipment distribution) |
| Date: | Every Saturday, Sunday and Public Holidays |
| Time: | 10 am to 4 pm (Last lending time for control card: 3 pm) |
| Party size: | Maximum 4 persons |
| Target participants: | All are welcome. Recommended to families with children. |
This activity is free of charge.
How to get there:
Programme components:
1. Orienteering
Introduction of LNEC Orienteering Course
a. Orienteering courses
Course maps may be downloaded for printing. A4 size paper is recommended for accurate scaling. All course start near the Fish Pond. Location of Start, controls and Finish are marked with a wooden pole or wooden box as shown below: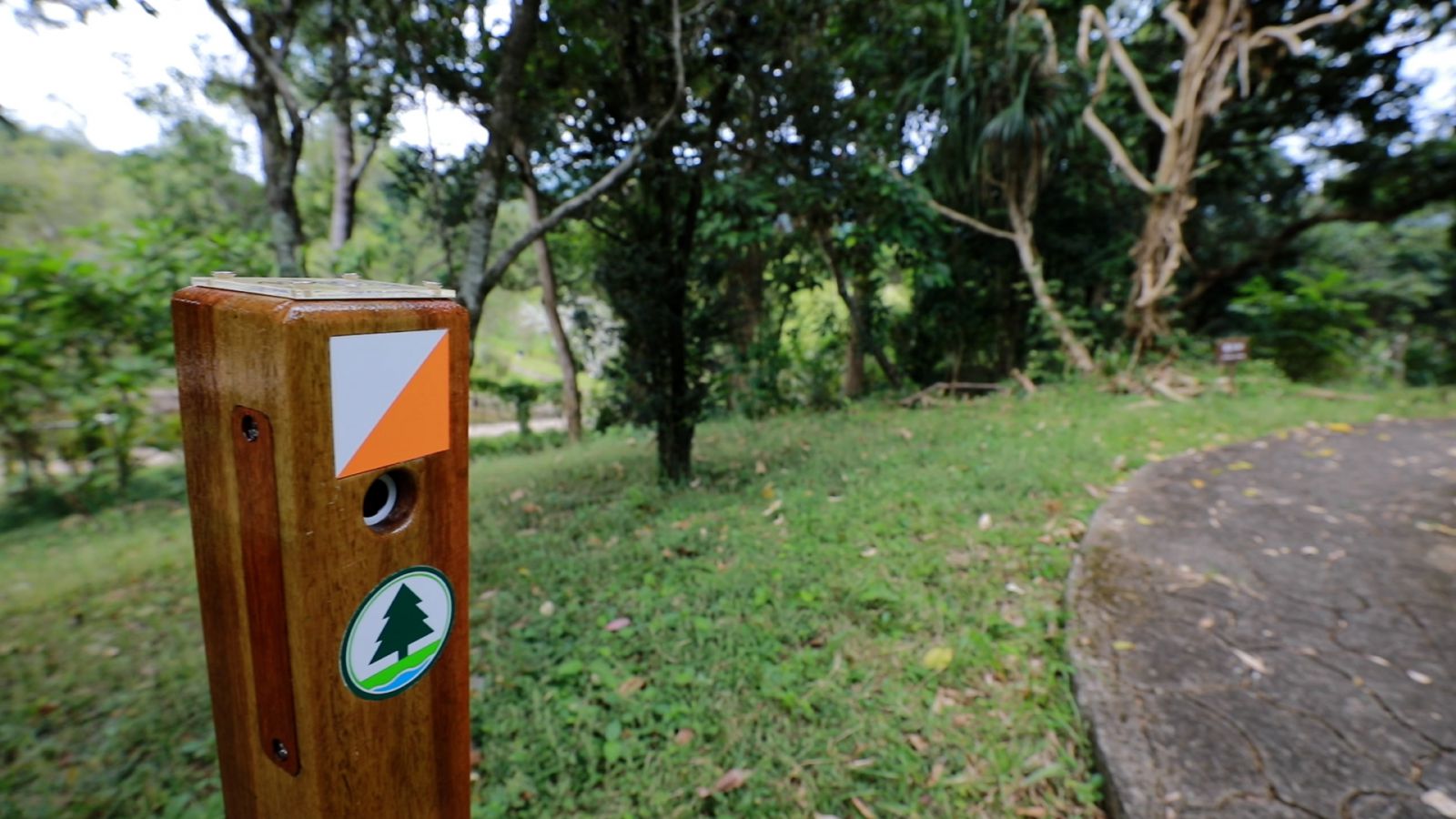 Participants may select from the following orienteering courses:
Format
Cross-country
Score

Course

Beginner

Intermediate

Open

Method
visit all controls in the order marked on the map
visit as many controls as possible within a set time(suggested time: 1 .5 hour)

Suggested participants

Family, kindergarten students

Family, primary students and above

All ages

Length / Climb

0.6 km / 22 m

0.8 km / 28 m

N/A

No. of controls

7

10

21

Map*

(Click to download)

*see points to note 1

Answer Sheet

(Click to download)
b. Electronic control card (Optional, available during programme hours)
Within the specified time, participants may borrow an electronic control card from the Counter to use during orienteering. The card will record the number of controls visited and the relevant times.
As there is a limited quantity of control cards, participants may need to wait for their turn.
c. Compass (Self-provided, optional)
Participants may orientate themselves by matching mapped features (e.g. buildings, roads) with their actual surroundings, and complete a course without the help of a compass. Nevertheless, participants may bring their own compasses if preferred. There is no provision of compasses at LNEC.
2. Learning about nature conservation
Questions relating to nature conservation are prepared for participants to learn more about Nature and the environment.
There is a QR code at each control location that links to multiple-choice questions about the country parks or nature conservation. Participants may scan the QR codes with their smartphone to access the question, and record their answer on the answer sheet available for download with the courses, or provided by LNEC. Look around each control area, and you can find hints in the surrounding environment and facilities.
Upon completion, participants should head to the Enquiry Counter to print their time record and return their control cards. Participants may also retrieve answers to the multiple-choice questions from site staff.
Enquiries:
For enquiries, please contact AFCD Lions Nature Education Centre at 2792 2234 during office hours or at lnec@afcd.gov.hk.
Points to note
Reinstatement works are in progress in some areas and road sections within LNEC. Please do not enter closed areas as mark on site, and update your route planning if any orienteering controls are affected. The affected areas are shown below:

(updated on 03.12.2021)

To enjoy a safe and environmentally friendly excursion, please refer to the Code for Visiting Country Parks and Special Areas . Do not conduct orienteering activities at night.

On the day of activity,

Take note of the latest weather information issued by the Hong Kong Observatory.

Aware of own health condition. Do not participate in the programme if you feel unwell.

Dress in light colors and wear shoes that cover entire foot, and bring along suitable head or rain gear.

Drink adequate amount of water in summer to avoid dehydration or heat stroke.

During the activity,

Parents / guardians should take care of children under 6 years old and accompany them at all times.

Stay on footpaths when possible, and avoid going through restricted areas or impassable vegetation as marked on the map.

Avoid resting on vegetation, or at humid and dark places.

Keep quiet and do not shout.

Do not pick or damage plants, do not disturb or catch animals.

Do not touch the wild animals, bird feathers or their droppings. Wash hands right after the activities.

Protect the countryside and "Take Your Litter Home".

Take care of personal clothes and belongings. LNEC will not be responsible for any loss.

Conduct the activity based on participants' abilities. A participant should end the activity immediately if they feel unwell.

Guidelines for adverse weather conditions

The programme will be cancelled without prior notice if the Tropical Cyclone Warning Signal No. 3 or above, the Rainstorm Warning Signal or Thunderstorm Warning Signal is issued two hours before the programme.

The programme will be suspended or discontinued without prior notice under any of the following circumstances:

Any Tropical Cyclone Warning Signal is in force

Amber/Red/Black Rainstorm Warning Signal is in forced

Thunderstorm Warning Signal is force or expected to be hoisted.

The Forecast of Health Risk of the Air Quality Health Index is Serious (AQHI Scale 10+) for General Stations

Inclement weather conditions on site